I love the way that God sends us confirmation of his will and ways in the most creative of ways.  I experienced this just last week as I was driving about 3.5 hours to a lunch where I was going to be touring a ministry that LeadHer is considering a partnership with.  Our organization had just made a HUGE announcement the day before, one that I know that God was asking us to make- one that he was ready to confirm through this "interesting string of events" and several others in one very special day.
Many of you that read my blog often know that I am an AVID coffee drinker… in fact it is rare to run into me without a coffee cup in my hand.  Needless to say, as I was driving that morning… I finished not one cup but two.  As many of you also know when you consume this much coffee on a roadtrip… it often leaves you praying for bladder grace.  Such was the situation that I found myself in Thursday of last week as I drove down Interstate 44 towards St. Louis.
The most humorous part of the story is that EVERY time I tried to pull over to exchange bladder grace for thankful relief… my phone would ring.  These calls were never with just anyone but someone who I could NEVER get a hold of normally.  As I continued to push on towards my destination I begin to sincerely hope that there would be ANYWHERE that I could stop as soon as I pulled off my exit.  God must have been laughing because not only was there just ANYWHERE there was my favorite place in the world… a Starbucks right as I pulled off the Interstate!  I have never been so happy to rush into a Starbucks in my life!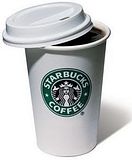 Once I could think straight again I approached the counter to order a drink for the road.  Once I had it in my hands, I turned to head for the door when I distinctly and clearly heard a voice in my head say "SIT". I froze in my place with one hand on the door.  In my mind I quickly retorted the voice by saying, "God, I HAVE to go… I have to be at this lunch in less than 30 minuets and I still have no idea where I am going."
Again I started to push the door open and again the voice said "SIT."  This time it felt louder and I actually looked around the restaurant for someone that might be yelling at me.  All that I found was the stare of a man who was watching me with a look on his face that could only be described as amusement and annoyance.  I am sure that he was trying to figure out what that crazy lady was doing near the door but this time I released the handle of the door and walked over to a chair in the corner to sit as I was instructed.
Here is another fact about me… I do not sit well.  I fidget… I have this need to be doing something at all times.  So I pulled out a book that I was reading thinking that maybe there was something he needed me to read before I left. About three sentences into my book I heard the front door of the store open and I glanced up… doing a double take at what I found.
A person had just entered the store and was walking up to the counter who looked VERY familiar to me… the following conversation then took place in my mind with God:
There is NO way that is who I think that is… right?  
It sure looks like them though… God is that really who I think that is? 
The voice of the Baraista who had prepared my drink only  a few moments before broke through my thoughts with his friendly greeting of , "Joyce, it is so good to see you!"
Joyce Meyer.  Really God that is why I am sitting here in the corner of this Starbucks?  What in the world do you want me to do in THIS situation?  
I grabbed my cell phone and quickly texted the members of our LeadHer team the following message: "Stopped at Starbucks in St louis for a Java jolt…. guess who walks in. Joyce Meyer. Hmmmm. Pray for an opening.
"  I myself prayed the following prayer:
"God if you have me sitting here so that I can share the vision of LeadHer with Joyce Meyer than you make her talk to me first."
I was thinking that obviously there would be no way that would happen… but God still had the last laugh. Apparently, my frequent glances in her direction as I prayed for direction caught her attention because I suddenly heard the voice that so often fills my home and my car say to me, "You look like you know me."
Yes.  Yes, Joyce Meyer I know you.
What ensued was a very short conversation that lasted no more than a few moments but in that time I was able to briefly share the vision for LeadHer and give her my card.
I have NO idea what God's plans and purposes are for that meeting that happened or that seed that may have been planted… but I do know this: God orchestrates divine appointments.
What I saw as a comical way to stretch the limitations of the human bladder… he saw as a way to guide me to the exact time and the exact place that he needed me to be that day.
I did make it to my luncheon in plenty of time to eat in the Joyce Meyer Cafeteria (no stinking joke… you can't make this stuff up) and to learn about a ministry that is doing amazing things!  As I drove home that night I could not help but think of the verse that says,
"For as the sky soars high above earth, so the way I work surpasses the way you work, and the way I think is beyond the way you think." Isaiah 55:9
I love that about our God.